Labels:
LA Woman
...when I was 17 years old my best friend was a coke addict Hollywood prostitute. Besides being absolutely beautiful... she was troubled like Marilyn Monroe. Her boyfriend when I met her was beating her. She was manic. I think she assumed I was gay and had sex with my closest friends. Still I loved her more then anything. She dated a lot of big celebrities. Dudes that were married. Ok so why am I telling you this?... the reason is that despite the fact that she was pretty much selling herself I still loved her deeply. I had a falling out with her because I told my other best friend that she had slept with this movie star. Like as if you could expect a 17 year old boy to keep a secret of that magnitude. ... of course I had to tell my buddies. Anyway the Hollywood thing was tip of the iceberg. She was a wild gal... and when you saw her you knew you were looking at an angel. She had a short brown hair and piercing green eyes. Her skin was white like snow white. I loved her unconditionally. When I turned 19 she was dating Sam the music video director. I still loved her more then I can explain. Sam was shooting a music video in New York and I was with her in her hotel room alone. She was quite a drug addict by that point and she took some ecstasy in the hotel room. She came on to me... and I knew Sam and his him crew thugs were downstairs drinking in the lobby. I didn't know what to do... I really did love her... but I knew it could never be. and I left the room because I knew I would not be able to control myself. To this day I have regretted that night... as if I didn't have the balls to take that which I really wanted.


Labels:
social network brat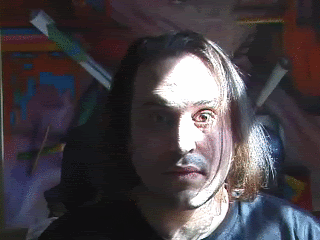 After talking about facebook to my sister for a year... I have gone through nine profiles and even have migrated for the most part away.... she has kicked me off her myspace profile and now after all my groaning and prodding she says to me she is switching to facebook. I'm like... "YOU DO KNOW I GOT A PROFILE BACK ON FACEBOOK, DON'T YOU?" "Oh really?", she sounded disappointed. I said, "Don't worry, I spend most of my time on TWITTER anyway and I have more then enough friends congregated around that I'm not ever going to poke yours." "EW TWITTER, what is that?", my baby sister retorted. "Well you really don't have friends there", I said. "It's like a giant text chat room. You either follow or don't follow." My sister scrunched her nose. The fact is that it is human nature of youth to be elitist. The thing that really drove the "Great Generation" crazy about the "Woodstock Hippies" wasn't so much that they didn't approve of they're lifestyle and politics, because frankly the "Great Generation" got so much more accomplished as far as equality and dignity... what really drove the "Great Generation" mad was that they weren't invited to those cool parties. I imagine a generation that survived the depression and the Holocaust must of been quite lonely. When I see the kids today and they're elitist "Texting" parties walking into the public sphere with they're cell phone and ignoring everyone around them with they're Blue State politics I am reminded of the pain my grandparents must of had when seeing all they're hard work benefiting elitist spoiled brats.
I'm tired...
I had a tuff day...
my girl got herself and her family an internet connection and I have anxieties that she might see all the pretty ladies that talk to me online and think I'm trying to cheat on her or something.... I think she knows I don't leave my house.. but it is hard to know what goes into her little warped mind... maybe she is saving it up till next year.... I'm a little conditioned for her insanity.
...my mother was a pain in the ass tonight... just kind of antisocial all the time and mean spirited. We go ticketed for not shoveling the front walk because my family was too cheap to get me a new shovel when the old one broke.
finally I sent Valentines messages to every woman on TWITTER and it pissed off all the men there.... I lost about 40 followers today. I was kind of hurt about that... I'm learning about TWITTER... it isn't easy. people follow you because they find you interesting... not because they like you. when I started getting cheeasey with the Valentines stuff I pissed off the men... and I worked very hard to get those guys to engage me. kind of hard to explain.... TWITTER is nothing like MySpace. It is like being in a large room with everyone listening and if you act like a goof people will ignore you.
A lot of those men were Leftists who were curious about what a right wing person was thinking. They don't really understand that I really am a Left wing person who was disheartened with the LEFT... hard to explain to people. They hear you talking about voting for John McCain and they assume that you had a silver spoon born in your mouth. Many of these twitter people are from England and or are Muslim and they are listening to me out of interest... when I started wishing all the ladies a happy Valentines day... it turned them off. They want to argue with me... not see the human element of me. I was trying to be funny. I just hope my girl doesn't get the wrong idea about me.
Popular Analysis
Mona Eltahawy is a darling of the feminist progressive left. She was recently attacked in Egypt's Tahrir square. ...another left win...

well, good! This will allow the public to talk about Islam. The more free conversation on the issue the better. they can't frame the con...

it did work for Obama though. Remember Obama Girl? image from the South Florida Chronicle It_is_not_clear_where_or_how the g...

Answer: At the very least one feminist Secretary of State ( BENGHAZI EMAILS )  This afternoon the White House released 100 pages o...

Liberal multiculturalists insist that Islam is the same as other major world religions. As usual, they are full of shit.. The l...

the night before the Boston bombing (that we now know Obama was warned by the Russians about)... we saw a CNN video about the Oklahoma City ...

Israel Matzav: It's official: Government inquiry finds al-Dura 'killing' was a hoax

Lori Lowenthal Marcus, the founder of Z Street who filed a lawsuit against the IRS,  notes that  "the very first hearing in  Z STREET...

A local Egyptian delivery company has been smuggling KFC meals through the underground tunnels across the Egypt-Gaza border, the Christi...

MFS - The Other News: Report: Top Obama lawyer told of IRS targeting in April.  SMOKING GUN: OBAMA MET WITH IRS UNION CHIEF THE DAY BEFORE ...